Welcome to Drew Naylor's website!
Hello! My name is Drew Naylor. Recently I decided to port my Weebly website to GitHub Pages and, well, I did. Back in 2011 I decided to start editing Super Mario 64 with my good friend, Dustin Herl. His web site was also created with Weebly; mine was originally as well but now it's on GitHub Pages using the Slim Pickins Jekyll theme.

On this website I have Gameshark cheat codes, links to ROM hacks (In BPS Patch format), links to editors, links to emulators, and even a blog!
---
This is Super Drew 64: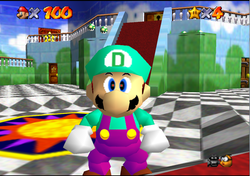 Mario's letter "M" on his cap has been turned into a letter "D". The red and green eye texture replaced the regular one. Mario's shirt and cap color has also been changed to aqua blue and his overalls are now purple. Please be aware that this is a ROM hack of Super Mario 64, a game originally made by, and copyright, Nintendo.

Today is:
Is my website broken? File an issue in my GitHub repository! Just want to ask me a question? Email me at drewnaylor_apps AT outlook DOT com! (Replace "AT" with @ and "DOT" with a period.) You can also contact me on Mastodon, if that works better for you.